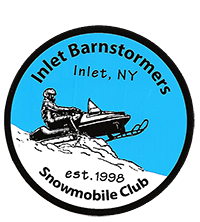 ~~~ TRAILS ARE CLOSED UNTIL FURTHER NOTICE ~~~
Our JANUARY 2020 NEWSLETTER can be found in the Index or by clicking on the three orange lines found at the very top left corner of this website.
CLUB SHIRTS AVAILABLE:
Sharon Bartel and "Carolina Dave" Forte have worked together to provide information from a company called Print Mania from which anyone can order apparel with the club emblem embroidered on any item they choose. The club has ordered samples of a fleece shirt that will be available for inspection at the January 21st membership meeting. Anyone can call and order any product as needed. You can order with a credit card or send a check after she completes the order but the check will delay delivery. She also charges $6.50 for any item you want to send her to have embroidered. The link www.printmaniatees.com will take you to the manufacturer's website. Regina Jackson is the owner of this family-owned and operated business. Print Mania, 624 Main Street, Arkadelphia, AR 71923, Phone 1-870-246-3803, or email printman2@gmail.com . Click here for more info.
JOIN OUR CLUB ONLINE:
Join our club online with your credit card and get your club voucher emailed to you at the following link:
Names and addresses should be exactly as they appear on your NYS registrations.
https://membership.nysnowmobiler.com/regions/20#c515
ADDITIONAL DECALS:
Additional decals:     One club decal is mailed along with your membership voucher and other materials when you join our club or renew your membership. If you would like additional decals, please send  an email along with your complete mailing address to: InletBarnstormersSnowClub@gmail.com  and the Club Membership Administrator will send you as many (within reason) as you request.
"My old grandmother always used to say, Summer friends will melt away like summer snows, but winter friends are friends forever."
– George RR. Martin, A Feast for Crows
WINNERS OF OUR ANNUAL SNOWMOBILE RAFFLE DRAWING
First Prize 2020 Skidoo: James Baggetta, Ballston Lake, NY
Second Prize $1,000 cash: Bill Saraceni, Haskell, NJ
Third Prize $500 cash: Walter (Zip) Thompson, Belford, NJ
Fourth Prize $100 cash: Allen Glace, Felton, PA
Fifth Prize $100 cash: Michele Connolly, Cortlandt Manor, NY
Sixth Prize $100 cash: Steven Greenberg, Brooklyn, NY
Seventh Prize $100 cash: Wes Wolfe, Avon, NY
Eighth Prize $100 cash: Mike Kodey, Endwell, NY
Congratulations to all the winners and thanks to all who bought tickets to support our club!
Don Bartel
President
What you need to know to snowmobile in New York State?
Help the club by depositing your snowmobile gas receipts in the provided boxes at the local pumps in Old Forge & Inlet. Look for the Club's decal at the following locations:

THENDARA, NY - North Country Market Sunoco. OLD FORGE, NY - Fastrac - Enchanted Forest Gas - Old Forge Campground. EAGLE BAY, NY - Big Moose Yamaha Artic Cat - Clark's Marina. INLET, NY - Inlet Marina - EZ Mart Citgo.