Ride
The Adirondacks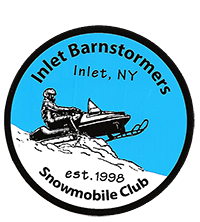 UPDATES
OVERNIGHT RIDE
The annual Inlet Barnstormers Snowmobile Club overnight trip will be held this season on Tuesday to Thursday, February 7-9, 2023 at the Tailwater Lodge in Altmar, New York.
Directions for booking online reservations:
Click Book Now (upper right corner)
Edit Arrival/Departure dates (valid February 7-9, 2023)
Click Special Rates button
The Group Rate of $139 will appear for reservations. Guests must reserve the room with a credit card. A card will be authorized upon arrival for the full amount, plus incidentals and will not get charged until day of departure. All rooms must be booked by January 27, 2023 to receive the discounted rate. We have 25 rooms set aside right now, but more can be added if necessary. Guests can also call the hotel direct at (315) 298-3434 and give the agent the Group Code (INLET).
Guest check-in is 3:00pm and guest check-out is 11:00am.
Hotel Amenities: Restaurant and lounge, indoor pool, 12-person outdoor hot tub, full-service spa, two game rooms and fitness center! Enjoy
The plan is to depart Old Forge @9am on Tuesday & be broken down into two groups (all depends on how many sign up). It is easier to manage two groups than one mass of sleds. If you register as a group please let me know so I can plan for you all to ride together as part of one of the groups. Currently there is NO LUGGAGE transport at this time, so unless told otherwise, plan on packing it on your sled. I am still working the group dinner for Wednesday night in the Tailwater Lodge restaurant. More details to follow. Please email me back with all names registered so I can begin to keep a head count.
Any questions, let me know.
CLUB MEMBERSHIP MEETINGS TO INCLUDE DINNER BUFFETS
These monthly meetings will be starting on October 18, 2022, and this season we will be be having dinner meetings in October, November, January and February. We will start with the dinner buffet at 6pm, and then start the meeting at 7pm. Dinner, desserts and beverages will be provided free of charge. Please note that those persons vaccinated for COVID are not asked to wear facemasks, but those persons unvaccinated must wear a mask at all times while inside the building where the meetings are held. This club and the Town of Inlet will not be held liable for any person if later infected. We invite all members to share this evening together.
CHRISTMAS PARTY
The Club's annual Christmas Party will be held at the Ole Barn on Tuesday, December 13, 2022.  There will be a brief business meeting at 5:30 pm, followed by hors d'oeuvres and a cash bar at 6:00 pm, dinner served at 7:00 pm.  Choice of entree is:   Prime Rib with Baked Potato; Garlic Haddock with Baked Potato; or Chicken Parmesan on Pasta.  Following dinner the gift exchange will be held.  If you wish to participate, bring a wrapped, unisex gift valued at $15.  The cost for the dinner is $15 per Club member, $40 per non-Club member.  Reservations and entree choices must be received by Kathy Simpson NO LATER THAN DECEMBER 4TH.  Please send a check payable to the Inlet Barnstormers to Kathy Simpson, PO Box 1042, Old Forge, NY  13420.  Payment must be received prior to the dinner. 
VOLUNTEERS NEEDED!
A word about volunteering: our club, YOUR club, needs more help. We understand everyone is busy, we get it. But for the club to stay viable, we need more help. As more of our board members wish to step down, we need people to step up. Without more volunteers, this club is in danger of, #1. having to merge with another club (if that is even possible) or, #2. disbanding all together. No one wants that. Please, come to a membership meeting; the next one is October 18th . Let's keep our club going!
INCENTIVES FOR CLUB VOLUNTEERS
Any member in good standing will be eligible for a club reward of a complimentary membership after volunteering for at least ten hours from March 1 to February 28 of any year. Those members volunteering at least 20 hours will receive a complimentary membership and a gift certificate for a complimentary dinner at the dinner meeting in March. The committee chairpersons will report these hours to the Club Membership Administrator no later than March 1st.
Safety Course Registration CHANGES
The registrations process has changed for the 2022 / 2023 season. Registration for the upcoming snowmobile safety courses throughout New York will be completed online. Click on the link below to select your preferred safety course.
To find any safety course in New York State. You may scroll through the list of safety courses or use the lookup field at the top. Use the Inlet zip code (13360) to quickly move to the Inlet Barnstormers Snowmobile Club open courses:
https://register-ed.com/programs/new_york/251-new-york-snowmobile-safety-course
Or to register for the Inlet Barnstormer's safety course on December 10, 2022:
Event – New York Snowmobile Safety Course – December 10, 2022 in Inlet, NY (register-ed.com)
Or to register for the Inlet Barnstormer's safety course on January 14, 2023:
Event – New York Snowmobile Safety Course – January 14, 2023 in Inlet, NY (register-ed.com)
Click view event on the right side. The event will open. Click the green button in the upper right side to register for the course. We will send everyone that registers for our course an information letter via email. We look forward to seeing everyone soon. Remember, Ride Right. For help to register online, contact David Forte, phone 919-750-7468, or email Dave barnstormers.ssc@gmail.com .
Youth ages 14 through 17 years old may operate a snowmobile, on lands upon which snowmobiling is allowed, without adult or other supervision if they have completed a snowmobile safety training course recognized by the State of New York. If youth ages 14 through 17 years have not completed the training course, they may operate a snowmobile if accompanied by (within 500 feet of) a person who is at least 18 years of age. Youth ages 10 through 13 may operate a snowmobile, on lands upon which snowmobiling is allowed, if they have completed a snowmobile safety training course recognized by the State of New York and are accompanied by (within 500 feet of) a person who is at least 18 years of age. Children less than 10 years old or less than age 14 without a safety certificate may operate a snowmobile only on lands owned or leased by their parent or guardian. A non-resident operator who is a resident of another state or country and is the holder of a valid snowmobile safety certificate issued by that state or country shall be considered the same as the holder of a New York State Safety Certificate. Additional information can be found at:
http://nysparks.com/recreation/snowmobiles/education.aspx.
MEMBERSHIP EXPIRATION DATES
All Club memberships expire on August 31st. If you haven't already paid your club dues of $30 to get your voucher to use at the New York State Department of Motor Vehicles to get the discounted fee of $45 per snowmobile instead of $100, you should renew your club membership now. Please be advised that the club does not have an office in the local Old Forge area where you can pay your dues to get your voucher once you arrive to snowmobile. And the turn-around time for your club membership to be processed to receive your vouchers could be two to three weeks. Join online to download and print your club voucher almost instantaneously, or print the membership renewal/application to mail in your check or money order.
GROOMER TRAINING
Groomer training and refresher information will  be required for any club member who is interested in volunteering. Care and use of upgraded equipment is in flux all the time, so even if you groomed last year, you will need to get the updated information. Please contact Dick Conversano, phone 516-641-7737 to arrange for a refresher session.
CLUB SHIRTS AVAILABLE
Sharon Bartel and "Carolina Dave" Forte have worked together to provide information from a company called Print Mania from which anyone can order apparel with the club emblem embroidered on any item they choose. The club has ordered samples of a fleece shirt that will be available for inspection at the January 21st membership meeting. Anyone can call and order any product as needed. You can order with a credit card or send a check after she completes the order but the check will delay delivery. She also charges $6.50 for any item you want to send her to have embroidered. The link www.printmaniatees.com will take you to the manufacturer's website. Regina Jackson is the owner of this family-owned and operated business. Print Mania, 624 Main Street, Arkadelphia, AR 71923, Phone 1-870-246-3803, or email printman2@gmail.com . Click here for more info.
JOIN OUR CLUB ONLINE
Join our club online with your credit card and get your club voucher emailed to you at the following link:
Names and addresses should be exactly as they appear on your NYS registrations.
https://membership.nysnowmobiler.com/regions/20#c515
ADDITIONAL DECALS:
Additional decals:     One club decal is mailed along with your membership voucher and other materials when you join our club or renew your membership. If you would like additional decals, please send  an email along with your complete mailing address to: InletBarnstormersSnowClub@gmail.com  and the Club Membership Administrator will send you as many (within reason) as you request.
Friends Forever
"My old grandmother always used to say, Summer friends will melt away like summer snows, but winter friends are friends forever."
– George RR. Martin, A Feast for CrWhat you need to know to snowmobile in New York State?
GAS TAX REFUNDS
Help the club by depositing your snowmobile gas receipts in the provided boxes at the local pumps in Old Forge & Inlet. Look for the Club's decal at the following locations:
THENDARA, NY – North Country Market Sunoco.
OLD FORGE, NY – Fastrac – Enchanted Forest Gas – Old Forge Campground.
EAGLE BAY, NY – Big Moose Yamaha Artic Cat – Clark's Marina.
INLET, NY – Inlet Marina – EZ Mart Citgo.